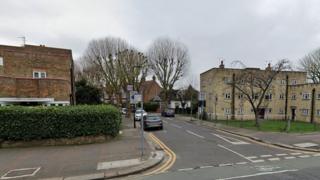 A man in his 20s has died after being stabbed in a fight near Ealing Common, west London.
Officers from the Metropolitan Police were called to reports of a fight close shortly after 18:00 BST and discovered the man suffering from stab injuries.
Members of the London Ambulance Service and the air ambulance also attended, however the man was pronounced dead at the scene at 18:48.
His next of kin have been informed and a post-mortem will be held.
A man was arrested on suspicion of affray and was taken to a west London police station where he remains in custody.
Inquiries are ongoing.
Anyone with information is asked to call officers on 101.
A section 60 order is now in place for the Hillingdon and Ealing areas until 07:00 on Wednesday, allowing the police greater search powers for a limited period.
This order comes after a murder investigation was launched when a man was stabbed to death on a train at Hillingdon station shortly before 16:00 on Tuesday.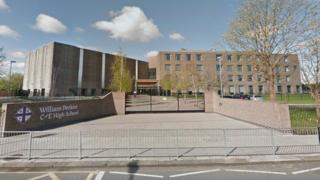 A boy who flicked a piece of cheese at a teenager with a dairy allergy who later died did not mean to harm him, an inquest has heard.
Karanbir Cheema, 13, who also had other allergies and asthma, suffered from a severe reaction at his school in west London on 28 June 2017.
He was taken to hospital in a life-threatening condition and died two weeks later.
An inquest into Karanbir's death heard a piece of cheese landed on his neck.
A boy, who cannot be named for legal reasons, told Poplar Coroner's Court he did not know why he threw the cheese, describing it as "immature behaviour."
The court heard he was given it by a friend during break time at William Perkin Church of England High School in Ealing.
'Extremely diligent'
He then threw the piece of cheese at Karanbir – but said he was not specifically his target.
"After that he just said 'I am allergic to cheese'," the boy said.
"I apologised and went to class after."
The boy admitted he did not know how serious allergies could be and thought they could simply cause a rash or fever.
"I didn't mean to hurt him and obviously I feel bad now", the boy said.
Epipen 'expired'
In a statement, Karanbir's mother Rina said her son was "extremely diligent" at managing his allergies.
Informed that cheese had been put down his neck, she said a consultant at the hospital questioned this because contact through the skin would not cause such a bad reaction.
Giving evidence, Rajvnder Saini who worked at the school, said an Epipen kept in the school for Karanbir had expired in July 2016.
An email was sent to the boy's mother in February 2017 to inform her, the court heard.
The inquest continues.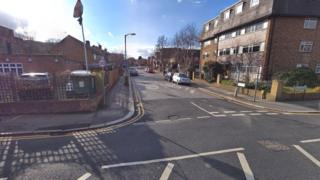 Police cars following three teenagers on a moped were told repeatedly to pull back before it crashed and one of the teenagers died, an inquest heard.
Tyereece Johnson, 16, died on 17 July 2017 after being thrown from the moped, which was believed to have been involved in an attempted robbery.
Inner West London Coroner's Court also heard a pursuit across south London had not been authorised.
A report by the police watchdog will be released at the inquest's close.
The trio were being tracked by a police helicopter feeding information on their location to cars on the ground in the early hours of 16 July, the inquest heard.
'No helmets'
The court was told that on at least two occasions, a female officer could be heard saying over the radio: "Can you try not to follow the vehicle too closely please?"
PC Lee Hunt, a tactical pursuit adviser on the night of the crash, told the court he did not authorise a pursuit, because the trio were not wearing helmets and due to the risk to other road users and pedestrians.
He advised that police cars attempted to position themselves ahead of the moped and lay down a stinger device to bring it to a halt.
He also told the inquest he was unaware there were two police cars following the moped.
Footage presented to the inquest showed the moped and its hooded riders weaving a convoluted route from Clapham Common to Wimbledon in south London, before crashing into the back of the police car and being flung in different directions.
'Brilliant footballer'
The inquest heard that Tyereece died of his injuries in hospital the following day.
Tyereece's mother Samantha Cohen described the teenager as a "brilliant" footballer and Chelsea fan, who was scouted by the Royal Ballet, according to a statement read by coroner Dr Shirley Radcliffe.
It added Ms Cohen and her son moved to Croydon from north London after she became concerned he had "fallen into the wrong crowd".
The inquest is scheduled to last for eight days.